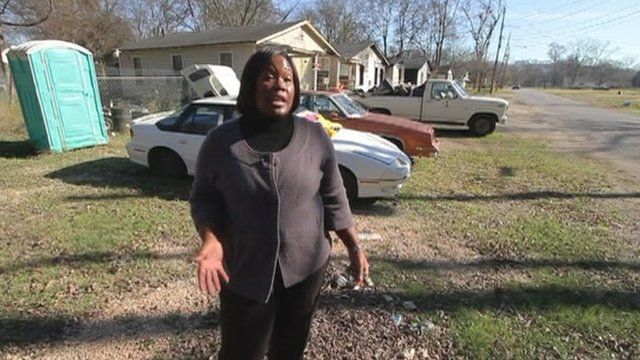 Video
'Third World' conditions in US city as poor cut off from water supply
Wall Street banks stand to lose millions of dollars from the financial collapse of Jefferson County, Alabama.
But the real victims of the biggest municipal bankruptcy in American history may be the county's poorest residents - forced to bathe in bottled water and use portable toilets after being cut off from the mains supply.
A new sewer system, which has been under construction since 1996, was meant to cost about $300m - but the cost soared to more than $3.1bn due to construction problems, rampant political corruption and a series of debt and derivative deals that went sour.
For many years, the soaring sewer rates bill hit the poorest parts of the county hardest, as better-off people in the suburbs installed septic tanks at their properties.
Sheila Tyson, a community activist in the deprived West End area of Birmingham, told the BBC how her community has been affected.
Go to next video: How a Midwestern town reinvented itself