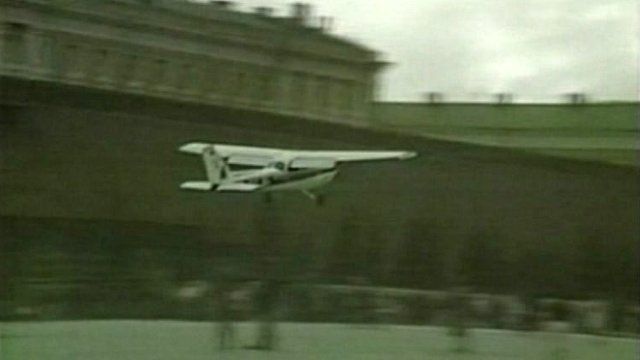 Video
Archive: German teenager flies to Moscow
In 1987 a West German teenager shocked the world, by flying through Soviet air defences to land a Cessna aeroplane in Moscow's Red Square.
Mathias Rust, just 19, had single-handedly flown more than 500 miles through every Soviet defensive shield in a single-engine plane to land at the gates of the Kremlin.
The idea had come to him a year earlier while he was watching TV at his parents' home where he lived in Hamburg, West Germany.
A summit between the US and Russian presidents in Reykjavik had ended in a stalemate and the teenager, who had a passion for politics, felt he wanted to do something to make a difference.
After landing in Moscow, Rust was arrested then charged and pleaded guilty to violating international flight rules, illegally crossing the Soviet border, and "malicious hooliganism".
The judge sentenced him to four years in a labour camp for what he called an "act of adventurism".
In 1988, following the signing of a non-proliferation treaty by presidents Reagan and Gorbachev, Rust was released as a gesture of good will after serving only 14 months.