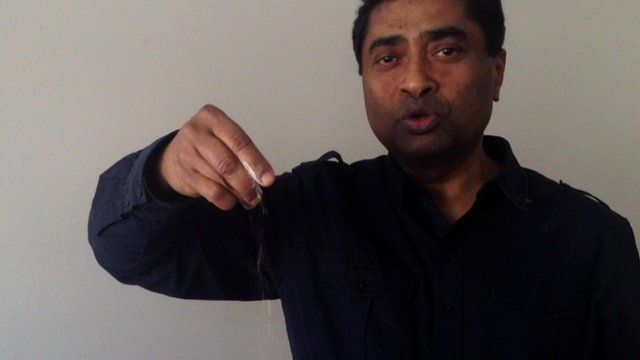 Video
How to make 'holy' ash appear in mid-air
An Indian man who made his name exposing miracles and the feats of holy men as tricks has spent the past two years in self-imposed exile in Finland, after being accused of blasphemy under a punitive colonial law.
Sanal Edamaruku had been a prominent member of India's small band of "miracle-busters" who dedicate their life to traversing the country demystifying certain beliefs.
In the 1990s Mr Edamaruku travelled through hundreds of villages replicating the materialisation of watches and holy ash some self-proclaimed holy men became renowned for, exposing them as sleight of hand.
But he fled his homeland after revealing that a "miracle" drop of water from the foot of a statue of Christ on the cross in a Mumbai shrine was simply down to bad plumbing.
Now Mr Edamaruku continues his campaign of demystification from his exiled home in Helsinki.
He showed BBC News how the holy men seem to produce ash from mid-air.
Go to next video: Penn and Teller and magic muffins