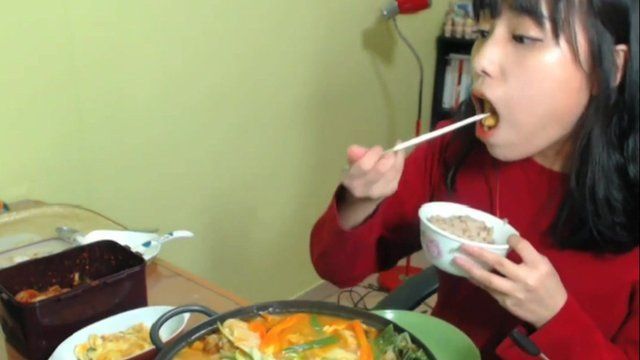 Video
The South Koreans eating for others' entertainment
In South Korea people some people are making money by eating dinner live on webcam.
The phenomenon is called "mukbang" - a combination of the Korean word for eating (muk-ja) and broadcasting (bang-song).
The performers make a show of eating in front of the camera, and if those watching like what they see their clicks can translate to money.
BJ Termin is one of dozens who eat live on Afreeca TV.
In this clip the 26-year-old is eating a home cooked dinner prepared by her mother. She has rice, cheese omelette, pork backbone stew and kimchi - Korean pickled cabbage.
She says the broth is excellent and her mom's cooking seems to have improved.
Footage courtesy of Afreeca TV
Go to next video: Who is the mysterious donor giving thousands to gamers?