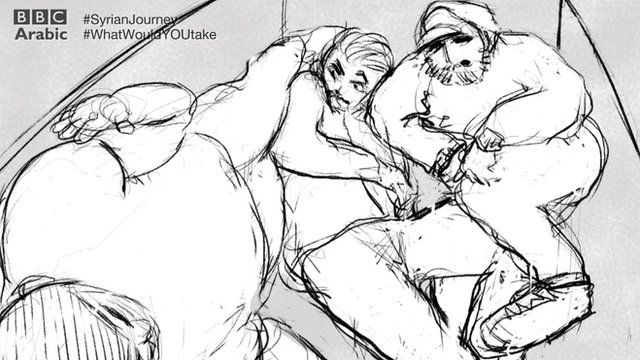 Video
Escaping to Italy in a fuel tank
Three refugees from Syria, Badi, Anas, and Said met in Turkey and walked to Greece - but in Athens they got stuck.
With money running out and their families depending on them, the friends made a last-ditch attempt to make it to Italy.
They paid 5,000 euros (£3,630, $5,386) each to travel to Italy in a lorry's reserve fuel tank.
It contained no fuel, and a door had been cut in the side to allow them to enter, but there was very little space - it was 2m long, 85cm high and 85cm wide.
The three almost suffocated, but made it to Italy after 24 hours in the tiny space, and continued their journeys.
One went to the UK, one to Austria and one to Sweden. All three were later granted asylum.
Here, Badi's words recounting the journey are spoken by an actor.
Animation by Osamah Al-Rasbi, video editing by Shayma Alissi.
Go to next video: Refugee 'nearly drowned in chocolate'