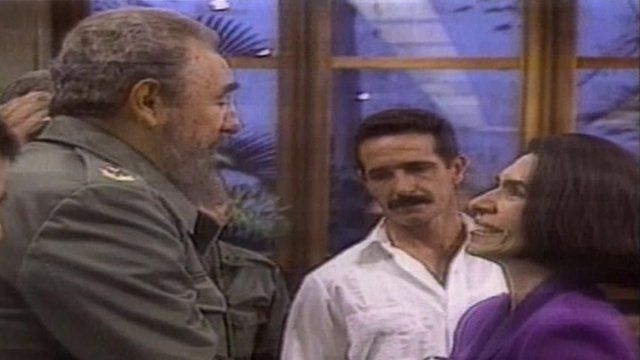 Video
Kissing Fidel Castro led to consequences for Miami woman
This month, President Obama made history when he shook hands with Cuban President Raul Castro at the Summit of the Americas in Panama.
It was the first time in more than 50 years that an American and Cuban president had met for face-to-face talks.
Meeting a Castro has not always been easy, as Cuban-American lawyer Magda Montiel Davis found out.
Twenty-one years ago, she met Fidel Castro in Cuba and gave him a kiss on the cheek, having no idea how much it would change her life.
The encounter was captured on video, and Montiel Davis received death threats after the footage was widely circulated in her hometown of Miami.
As relations open up between the two countries, Montiel Davis sat down with BBC Persian's Sam Farzaneh.
Filmed and edited by Sam Farzaneh
Go to next video: Obama: 'Cut loose shackles of past'