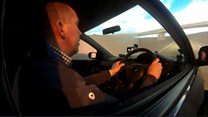 Video
Why you should not stream and drive
More and more people are live streaming themselves on apps and some are doing it while driving. A campaign called #dontstreamanddrive is warning them of the dangers.
It is run by a police sergeant called Neil, who is also known as @SgtTCS on Twitter.
He demonstrated the dangers of streaming and driving in the Digi-car at the Transport Research Laboratory in Berkshire.