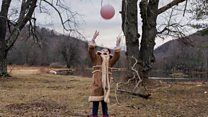 Video
The children who learn in the woods
A new photography book documents the homeschooling community in Woodstock, New York, where nature is a priority.
Over 1.7 million children in the US are homeschooled, but what that means depends on the families involved.
In Woodstock, New York, a homeschooling community is focused on helping children reconnect with nature.
Photographer Rachel Papo spent time with children there who have forgone traditional schooling.
Video by Colm O'Molloy & Fred O'Connor