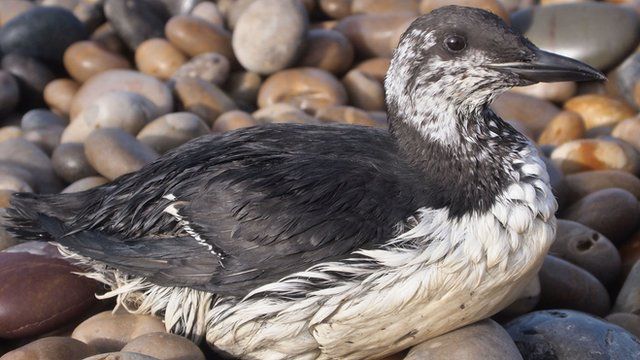 Video
Rescue for birds covered in 'wax'
Hundreds of seabirds - some dead - have been washed up on England's south west coast, covered in a waxy substance.
The RSPCA said it had rescued more than 100 birds, which had been taken to the West Hatch Animal Centre in Taunton.
Earlier reports suggested the white substance was palm oil, but scientists were unable to confirm this, though they believe it is vegetable-based.
Many birds were found at Chesil Cove near Weymouth but others are appearing up to 200 miles away in Cornwall.
There are also reports of some washing up in Hampshire.
David Cowdrey from the RSPCA told the Today programme that the substance is "still unknown at the moment" but that they are treating the birds "as best they can and trying to find the right remedies".
There were "123 birds admitted over night and most of these survived," although some have died "either through injuries sustained from being on the beach or from having the pollutant on them for some time" he claimed.
The RSPCA "urge people to keep their dogs on a lead when walking on the beach and to report any birds they find rather than trying to rescue them themselves" David added.
First broadcast on BBC Radio 4's Today Programme on Friday 1 February 2013.