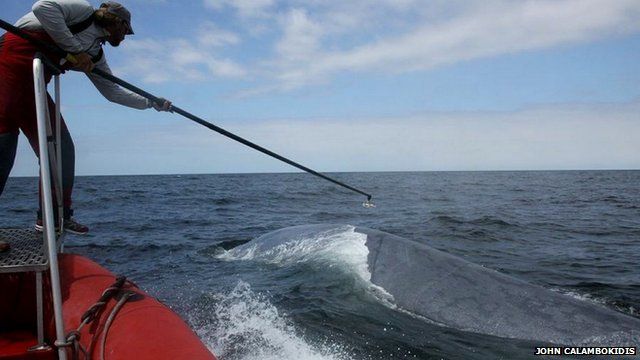 Video
Blue whales tagged in sonar experiment
Blue and beaked whales are disturbed by navy sonar, according to two studies published this week.
In two separate studies, teams of researchers managed to attach tracking and sound-recording tags to 17 blue whales and two beaked whales.
They then played the simulated sound of sonar through an underwater speaker and measured the animals' responses.
The findings are reported in two Royal Society journals, Proceedings B and Biology Letters.
In this short clip, one of the scientists fits a tag to a blue whale by moving alongside the animal and "tapping" the tag onto its body.
Footage courtesy of John Calambokidis (taken under NMFS permit #14534)
Go to next video: 'Carpets of seaweed' grown for fuel