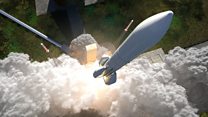 Video
Ariane 6 design 'on course for 2020'
The design for Europe's new Ariane 6 rocket has been settled and the project is now set to move forward in its development.
The launcher is due to be introduced in 2020 and long-term will replace the Ariane 5 and Soyuz vehicles that currently operate out of French Guiana.
Member states of the European Space Agency are investing billions in upgrading their rocket programme, with the Ariane 6 being its centrepiece.
Video courtesy of Airbus Safran Launchers
Go to next video: Inside Russia's new space port