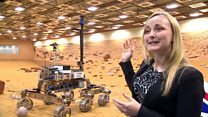 Video
Why is Tim Peake controlling a Mars rover from ISS?
British astronaut Tim Peake is taking part in an experiment to control a prototype Mars rover on Earth while he is in orbit on the International Space Station.
The rover, named Bridget, is located in a simulated Martian landscape at Airbus in Stevenage, Hertfordshire.
The experiment aims to find out if astronauts circling Mars could control exploratory rovers on the Red Planet, as this clip explains.
Go to next video: How to run a marathon in space