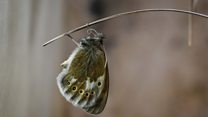 Video
Large heath butterfly unfurls its wings
After three years of careful captive breeding, scientists from Chester Zoo say they have established a wild colony of a rare butterfly at Heysham Moss in Lancashire.
The insects have been absent from the area for a century.
This time-lapse video shows one of the butterflies unfurling its wings after emerging from a cocoon in one of the zoo's custom-built pods.
Footage courtesy of Chester Zoo.