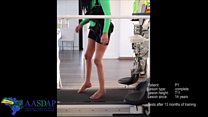 Video
Paralysed patients move after brain-interface training
In a surprise result published in the journal Scientific Reports, eight paraplegic people have all recovered partial sensation and movement after an intensive one-year training program.
The regime was intended to teach the subjects to walk inside a robotic exoskeleton, and included learning to control the legs of a virtual avatar using brainwaves, recorded by a skull cap.
Researchers believe the treatment is reawakening the brain's control over surviving nerves in the spine.
Before the program, the two patients in this video were paralysed for 13 and 11 years.
Footage courtesy of AASDAP/Lente Viva Filmes