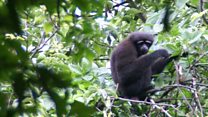 Video
Meet the 'Skywalker' gibbon
Scientists have discovered a new species of gibbon they have named the 'Skywalker'.
A new species of gibbon identified in the forests of southern China has been named Skywalker by scientists.
Dr Sam Turvey, a senior research fellow at the Zoological Society of London tells the Today programme this type of gibbon was named Skywalker because of its holy status in Chinese culture and because the scientists were fans of Starwars.