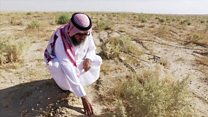 Video
Dust-catching plants in Kuwaiti desert
How planting native shrubs provides a natural barrier to help cut air pollution from dust in Kuwait.
It's estimated that dust storms cost the Middle East and North Africa around $12 billion every year. One of the hardest-hit countries is oil-rich Kuwait - but it's also investing in solutions.
---
So I Can Breathe
A week of coverage by BBC News examining possible solutions to the problems caused by air pollution.