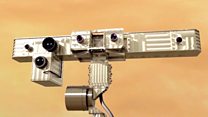 Video
A guide to the Exomars rover's camera
Andrew Coates explains the ExoMars rover's panoramic camera (PanCam) instrument.
Prof Coates, from UCL's Mullard Space Science Laboratory (MSSL), is chief scientist for PanCam.
As well as returning amazing images from the Martian surface, it will help scientists find the best targets on the surface for scientific investigation.
The European Space Agency (Esa) rover is due to launch in 2020, touching down on the Martian surface the following year.