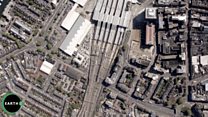 Video
UK firm to capture videos from space
A British company has announced its intention to launch a big constellation of Earth observation satellites.
Earth-i says its spacecraft will gather sub-1m-resolution still and moving images of the planet's surface.
The firm has released this video of Reading in southern England which it claims is a technically accurate simulation of the sort of product the constellation will be able to capture.