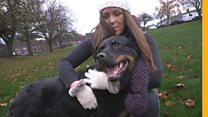 Video
Dog foster carers helping abuse victims keep their pets
**Some of the content in this video viewers may find upsetting**
Gemma was trapped in a violent relationship, and feared her partner would kill her beloved dog Dusty if she left.
Refuges can rarely take animals, so special fostering schemes take care of them, allowing families and pets to be reunited when they are settled and safe.
Frank, who has been fostering dogs for nine years, looked after Dusty for six months.
To hear more on this story listen to 5 live Investigates on BBC Radio 5 live on Sunday 19 November 2017 at 11:00 BST. You can also download the podcast after broadcast.
Filmed by Ruth Evans and edited by Lucy Green