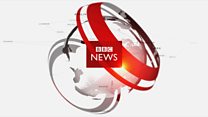 Video
'My dad lost nearly £500,000 to blackmailers'
Malcolm's Dad told him he'd been through the worst year of his life, and would tell him everything, but died before he could explain.
Cecil had been caught up in a multi-million dollar fraud, involving a company in Pakistan called Axact. They have been investigated by the FBI over the sale of fake degrees to thousands of people all around the world.
Malcolm warns anyone in his Dad's position to "speak to someone about it, stop the payments, stop answering the phone calls. I really wish my Dad had done that."