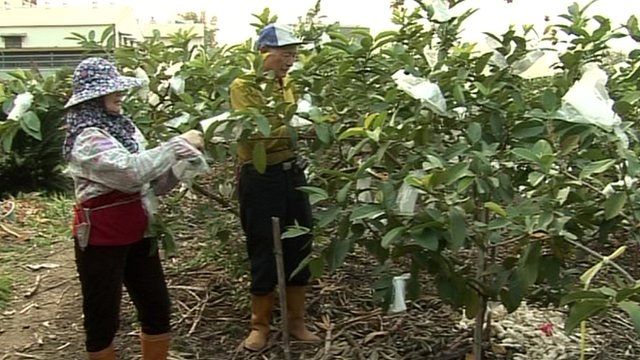 Video
Taiwan fights fruit fly pests with technology
Fruit flies may be tiny - but they are also one of the biggest enemies of fruit farmers, including those producing guava in southern Taiwan.
The larvae of these insects often infests ripe fruits, making them unusable. Traditionally, farmers use traps with pheromones - chemicals that attract the flies - and then hand-count the dead insects every 10 days.
But scientists at the National Taiwan University have developed a small box-like device that uses infrared lasers to scan the entire farm. Every time a fly gets inside and breaks the beam, it gets counted.
The number is radioed to a monitoring station. When a trap counts more than 10 flies in 30 minutes, or when the forecast model predicts a rapid raising trend of fly population, it triggers a possible outbreak alert, and a farmer gets a text message on his mobile phone. Alerted in advance, he or she can then cleanup the farm, increase the number of fly traps, wrap up the fruits using bags, or use pesticide as the last resort if the situation gets out of control.
Dr Cheng-Long Chuang explains how the technology helps farmers fight the pest.
Produced by BBC technology reporter Katia Moskvitch
Go to next video: Taiwan plans to build factory from e-waste