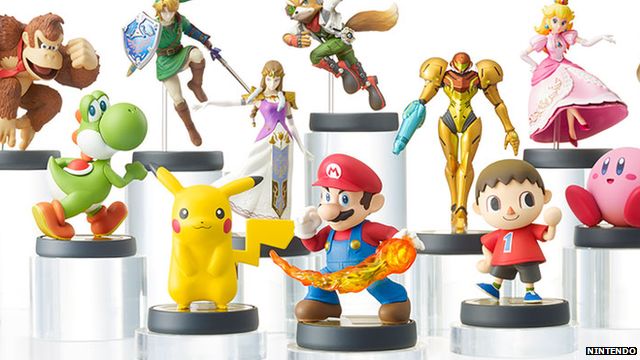 Video
E3: First look at Nintendo's new toys
BBC's Richard Taylor quizzes Nintendo about its new amiibo toys - figurines that unlock extra gameplay in compatible Wii U and 3Ds console titles.
Nintendo is showing off the first of its amiibo toys at the E3 video games expo in Los Angeles.
Each figurine includes an NFC (near field communication) chip, which allows it to store data about a player's progress and unlock new types of gameplay in Super Smash Bros 4 and other compatible titles.
To do this the toy must be brought close to a Wii U console controller or special sensor for the 3DS handheld.
Activision and Disney have already had success with a similar concept.
The BBC's North America technology correspondent Richard Taylor quizzed Nintendo about how the toys would work in practice.
You can follow Richard on Twitter @RichTaylorBBC.