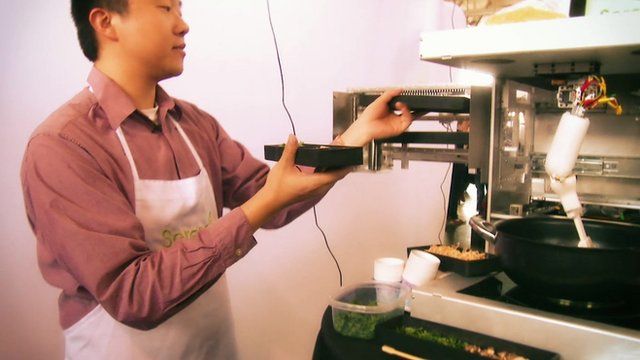 Video
Meet the personal robot chef
A US start up is hoping to bring restaurant-quality food into kitchens with a robot doing the cooking.
The idea behind Cooki is that users insert a tray of fresh ingredients into the device. The robotic arm then chops, slices, and cooks it all, to provide what the company says is a consistent and nutritious meal every time. It connects to a smartphone which provides a list of recipes.
But is this "cooking bot" taking all the art out of cooking? And is it really a viable alternative to pre-prepared ready meals?
The BBC's North America technology correspondent Richard Taylor witnessed a prototype of Cooki in action, and spoke to Timothy Chen, from Sereneti Kitchen, the company behind the contraption.
You can follow Richard on Twitter @RichTaylorBBC.
Go to next video: Robot chefs take over restaurant