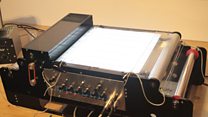 Video
Daphne Oram's machine has finally been built
An electronic sequencer and synthesizer has been built based on designs produced over 40 years ago by electronic music pioneer Daphne Oram.
The "Mini Oramics" machine is thought to have remained unfinished in Daphne Oram's own lifetime.
Tom Richards, the researcher who finally constructed the machine, talked to reporter Chris Vallance.