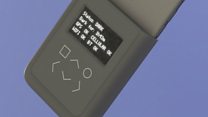 Video
Could this case stop your phone being hacked?
A phone case has been designed by whistleblower Edward Snowden which, it's claimed, will alert you when your phone is being hacked.
Professor Peter Sommer is an expert on cyber security. He explains to Eddie Mair how people can gain access to your phone, even if you think it's turned off, and whether this device could prevent it.
(Photo: Image of Snowden's phone case design. Credit: Andrew Huang & Edward Snowden)