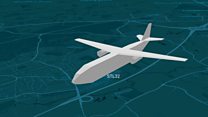 Video
Plane-tracking app shows order of the sky
Hundreds of planes can be seen flying above the UK in a new plane-tracking app.
A new app lets people explore UK airspace in 3D and see hundreds of planes flying in almost real-time.
Airspace Explorer is based on software used by air traffic controllers at the company NATS, although some planes are hidden from view.