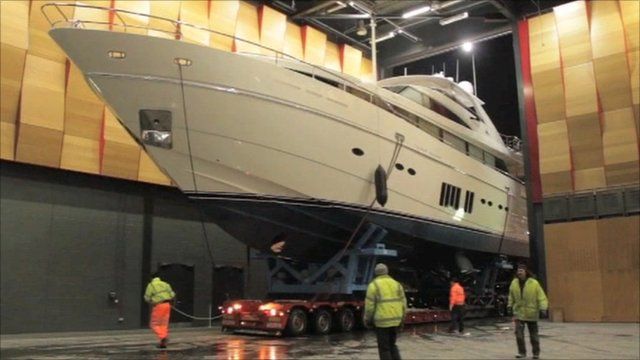 Video
Tight squeeze for record-breaking 100 tonne superyacht
It wasn't exactly smooth sailing for the 100 tonne superyacht which had a tight squeeze to get into an exhibition centre in London.
The Princess 32M, which as it's name suggests is 32m long (105ft), was edged into the Excel centre with just 10cm to spare.
The vessel, built in Plymouth, Devon, sailed into the Royal Victoria Dock from the River Thames, in December, before being hoisted by a crane onto dry land.
It was then loaded onto a lorry and driven carefully into the arena ahead of the London Boat Show which opens on Saturday.
The superyacht, which took a day to move a few metres from the water into the dock-side centre, is the largest and heaviest ever to be displayed inside.
A spokesman for the exhibition said about 1,000 boats will be on show but the Princess had to be brought in first and the rest of the exhibits built around it.