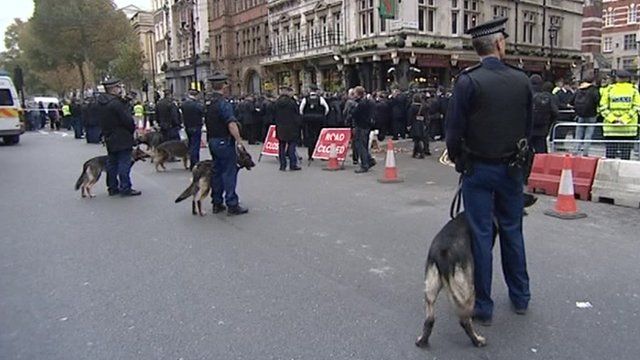 Video
EDL members arrested held near Cenotaph in London
More than 170 supporters of the English Defence League (EDL) have been arrested outside a pub near the Cenotaph in central London, Scotland Yard has said.
They were at the Red Lion in Parliament Street, close to Downing Street and government buildings on Whitehall.
The EDL had said it would be in Westminster on Armistice Day to pay its respects to military personnel who had been killed or injured while on duty.
Police said the arrests were made to "prevent a breach of the peace".
The BBC's Ben Ando said that there were no reports of violence linked to the arrests, but that clashes between EDL members and a now banned group, Muslims against Crusades, had taken place on Armistice Day in 2010.