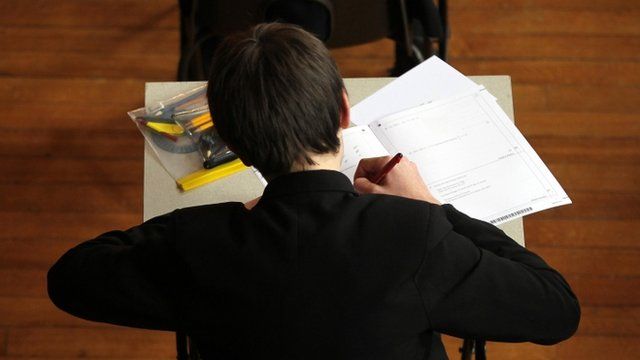 Video
Headteacher: GCSE results 'fell off a cliff'
For the first time since GCSE exams were introduced, in 1988, the proportion of entries achieving an A-star, A, B, or C grade has fallen. Overall, the proportion was down by 0.4% compared with last year. Concern has been expressed that that the exams, particularly in English, may have been marked too harshly.
The head of Manor Church of England Academy in York, Brian Crosby, told Radio 4's World At One programme that he was stunned by his pupils' English results.
"I would not disagree that sometimes, sometimes exams have been made easier, not the English exam. But I don't think this is about grade inflation," he told presenter Martha Kearney.
"If you wanted to stop grade inflation you'd expect a zero per cent increase in performance or maybe take it back by one or two per cent. But what happened yesterday is we fell off a cliff."
23 Aug 2012

From the section

UK