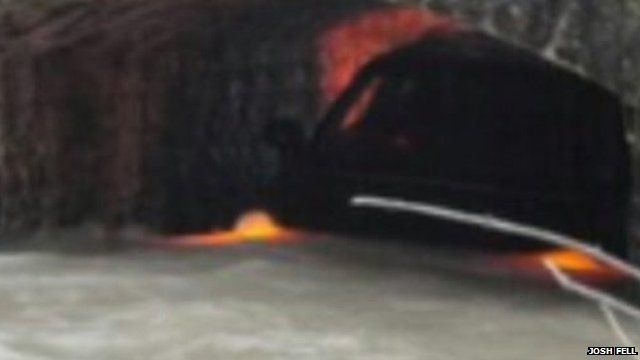 Video
Woman saved before car washed away by river in Wales
Staff and drinkers at a pub in Llancarfan, in the Vale of Glamorgan, have rescued a woman from the River Carfan before her car was washed away under a bridge.
The woman was driving through the village when her black Mini ended up in the swollen waterway and began floating backwards with her trapped inside. The car's journey downstream was halted by the middle section of a bridge.
Sam Smith told the BBC that he and a friend smashed the car window with a ladder and pulled her to safety. He said that about a minute later the car was washed under the bridge and filled with water.
The woman was in a state of distress after the rescue but was taken to the pub where she was given blankets and tea.
Go to next video: Services resume after flooding