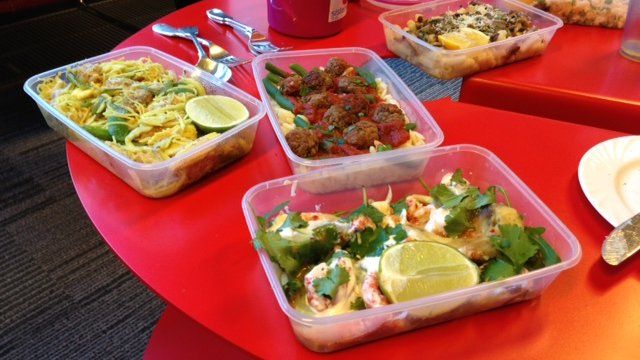 Video
Are you dining 'al-desco'?
Working through lunch breaks is a common occurrence for many office workers in Britain.
In a poll for BBC Breakfast, 54% of those surveyed said that they regularly work through their lunch break, with men saying they are more likely to do so than women.
The majority (78%) say that they do not feel under direct pressure to work through their break but that it is a cultural issue for most workplaces, which may contribute to people staying at their desk when they are not being paid.
Lindsey Bareham, who writes the daily Dinner Tonight column in the Times, brought some food into studio, explaining that "most of us usually just grab a sandwich... but these are ideas that you could knock up the night before."
Lucy Kellaway, Financial Times management columnist, said she was "horrified".
"I've tried eating couscous at my keyboard, it falls off the fork and into the keyboard. I challenge you to get that stuff out of your keyboard," she added.
First broadcast on BBC Radio 4's Today Programme on Thursday 7 February 2013.
07 Feb 2013

From the section

UK