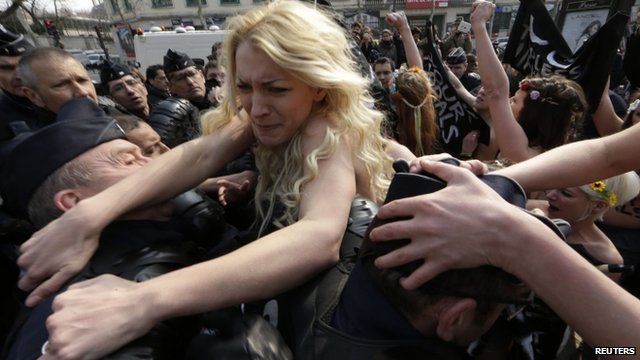 Video
Topless protesters are 'taking bodies back'
A protest at a trade fair in Hanover which was attended by the Russian President Vladimir Putin and the German Chancellor Angela Merkel resulted in widespread media attention.
Pictures of the demonstration held by a group called FEMEN were splashed across newspapers and television screens around the world.
The reason for such massive coverage was the fact that the women were topless.
Speaking to The Today programme's John Humphrys, Alexandra Shevchenko, leader of the FEMEN branch in Germany, said: "We are protesting against patriarchy, and three of its manifestations - sexual exploitation, religion and dictatorship.
"Men are using our bodies for their own aims. They are selling our bodies and using them for advertisement, sexual satisfaction and to make children.
"We understand that if we take our bodies back, our sexuality back, we will use it for our goals.
"You can see the reaction of security and police. It's just a naked breast. It's just something you can see in advertisements, but it's really scared them."
First broadcast on the Today programme on Wednesday 10 April.
10 Apr 2013

From the section

UK