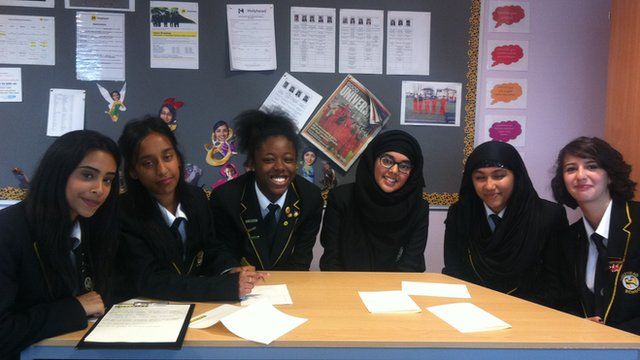 Video
Malala 'modern day suffragette', say Birmingham girls
Schoolgirls in Birmingham - the city Malala Yousafzai now calls home - have praised her courage and bravery for standing up to the Taliban.
The 16-year-old girls from Holyhead School in Handsworth, who are the same age as Malala, described her as a "modern day suffragette" and say she has inspired them to study harder to achieve their hopes and dreams.
Birmingham is home to one of the most multi-cultural communities in the UK, which is reflected at Holyhead School, where 40 different languages are spoken.
Speaking to BBC Asian Network's Poonam Taneja, the girls - Kyra, Jessica, Lucky, Faisah, Tabassum and Megan - who are all in Year 11 and studying for their GCSEs, described the the impact Malala has had on their lives and why they believe she should be awarded the Nobel Peace Prize.
Lucky says: "Before I didn't really care about my education but now after what she's done, I realise there are people out there who don't have that."