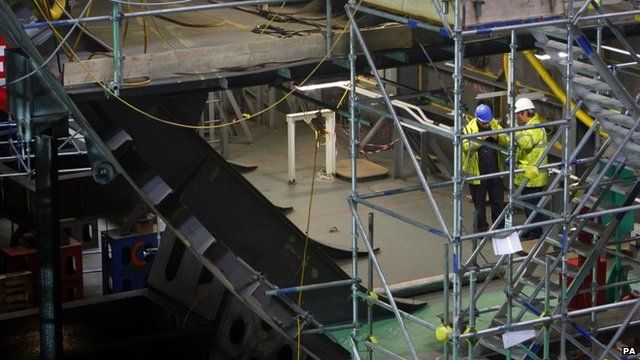 Video
Council chief: Threat to British shipbuilding 'disastrous'
Workers at BAE Systems shipyards on the Clyde and the south coast of England are awaiting news of major job losses.
The BBC has learned the company may cut more than 1,000 jobs at Govan and Scotstoun in Glasgow and at Portsmouth.
It is understood Govan will not close but there is renewed speculation about the future of Portsmouth's shipyard - the only place in England that has the ability to build advanced warships for the Royal Navy.
Leader of Portsmouth Council Gerald Vernon-Jackson spoke of his concerns, which are linked to the possibility of Scottish independence next year - believing the UK should maintain the ability to build warships for the Navy and not be reliant on foreign suppliers.
"We shouldn't be going off to the Germans or the French, or the Americans, to be able to build these ships," he told the BBC's James Naughtie.
"They should be done in Britain, and it would be disastrous I think - strategically for the UK - if we lose that ability, if Scotland becomes independent."
First broadcast on BBC Radio 4's Today programme on Wednesday 6 November 2013.