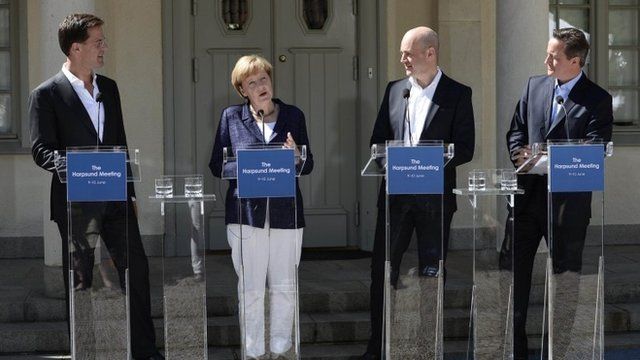 Video
David Cameron: 'Centre right should work together'
David Cameron appears no closer to resolving his differences with the German Chancellor, Angela Merkel, over who should take over as president of the European Commission.
At talks in Sweden this morning, Mrs Merkel restated her support for the former prime minister of Luxembourg, Jean-Claude Juncker.
Mr Cameron is calling for a candidate who will radically reform Brussels and says EU leaders, not the European parliament, should hold sway.
After the mini-summit, Mr Cameron told reporters that the centre-right leaders from Sweden, Germany, Britain and the Netherlands should work together.
Go to next video: Cameron hails support against Juncker