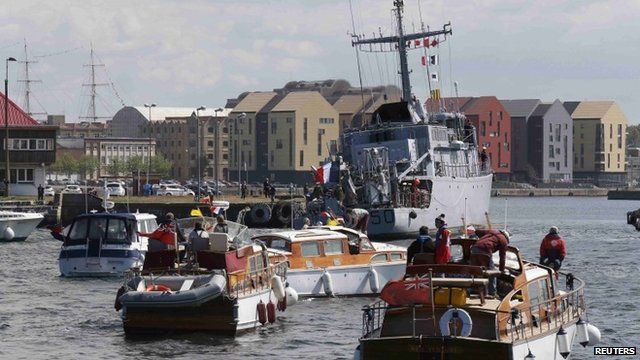 Video
Dunkirk: 'Little ships' cross Channel on 75th anniversary
About 50 small boats involved in the evacuation of allied troops from the beaches of Dunkirk in World War Two have sailed from Kent to mark the 75th anniversary of the rescue.
The craft, escorted by RNLI and Royal Navy vessels, arrived in the French town at 16:00 BST.
Operation Dynamo, between 26 May and 4 June 1940, saw hundreds of boats of all types rescue 338,000 troops after they had retreated from Nazi forces.
A return takes place every five years.
The Association of Dunkirk Little Ships (ADLS) has organised sailings across the English Channel since 1970 in honour of the fishing boats, pleasure yachts and lifeboats that took part.
Andy Moore reports from Ramsgate.
Go to next video: World War Two evacuee 'was adopted'