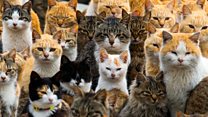 Video
Wales first ever 'Manifesto for Cats has been launched
Wales' first ever 'Manifesto for Cats has been launched at the National Assembly for Wales.
Its aim is to put feline welfare on the political agenda, ahead of the Welsh Government election in May.
Jacqui Cuff, Advocacy Manager for Cats Protection, told BBC Radio 5 live Daily's Adrian Chiles the reasons behind the unusual manifesto.
She said: "We want to clamp down on people trading cats and kittens on the internet. We need to take a good look at the online trade."