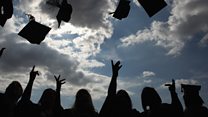 Video
Why a university has banned throwing mortarboards
A university has banned students from throwing this mortarboards in the air because of health and safety concerns
Some graduates at the University of East Anglia in Norwich have been injured by falling hats in recent years.
It's now banning the tradition, suggesting students mime throwing their mortarboards instead.
Student Jonny Wright stressed that mortarboard injuries are "one in a million" and that the ban is "over the top."
Liam McCafferty who is the Postgraduate Education Officer for the Students Union told 5 live Daily's Peter Allen that he also feels that the ban is harsh on students.
He said: "Their preferred solution is that they are photoshopped in for £8 per student."
18 May 2016

From the section

UK