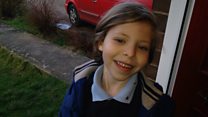 Video
Mother forgives driver who killed her 7-year-old son
The mother of a seven-year-old boy who was killed while crossing the road outside his home has spoken about why she has forgiven the driver.
Seth was hit by a car driven by Amy Asker, 33, while she chatting to a friend using her mobile phone's loudspeaker function. Seth died in hospital 2 weeks later.
Road safety campaigners criticised magistrates after the driver who admitted careless driving, avoided jail. She was fined and given five points on her licence.
Seth's mum Alice Husband told 5 live Daily's Peter Allen that she felt that it was important that Amy was forgiven for the sake of her own children.
"I said, you've got to stop blaming yourself and you've got to move on for your children. It was a terrible accident, we can't bring Seth back but we can move forward."