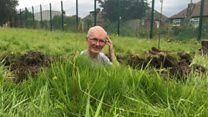 Video
Charity worker to broadcast from buried coffin
A recovered drug addict and charity worker has taken on the challenge to bury himself for several days and broadcast it via a smartphone.
John Edwards, 61, is being buried on Friday in Halifax in a bid to help suicidal addicts.
The Walking Free charity founder works with suicidal addicts and their families.
He will receive food and water through pipes connected to his caravan, he told BBC 5 live that his challenge will "bring people words of light from the grave."
22 Jul 2016

From the section

UK