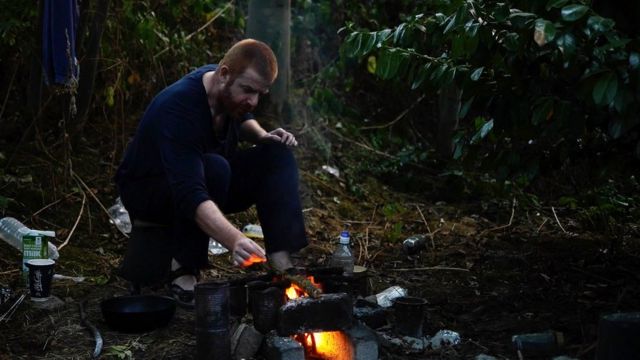 Video
Sex ban man is now sleeping rough
A man who must notify police 24 hours before he has sex has said he is sleeping rough in a wood near York, because the restrictions of his Sexual Risk Order (SRO) have prevented him from being able to work or claim benefits.
Mr O'Neill, who has said he has an interest in sado-masochism, was cleared of rape last year but subjected to the order and could be jailed if he ignores it.
John O'Neil showed the BBC Victoria Derbyshire programme's Peter Whittlesea the conditions in which he is currently living.
North Yorkshire Police said it was satisfied the order was proportionate.
The Department for Work and Pensions said in a statement it "does not recognise" Mr O'Neill's account of events, and urged him to contact them "as soon as possible if he does want our help to get back into work."
The Victoria Derbyshire programme is broadcast on weekdays from 09:00-11:00 on BBC Two and the BBC News Channel.
Go to next video: Sex ban man on 'devastating' effects