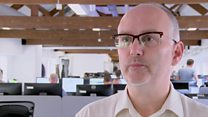 Video
Mental health: 'Work gives you company and focus'
James Tringham, who has bipolar disorder, has worked for insurance company Aviva for seven years - but previously had a career as a solicitor.
That changed in 2009, when he reached "crisis point" and gave up his legal career.
Mr Tringham was out of work for over a year and "terrified" at the prospect of going back to work - but says that being in a job has a "normalising effect" that has helped him get his life back on track.
Go to next video: 'I was dragged to a psychiatrist screaming'