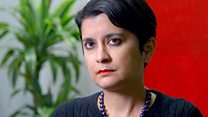 Video
'Legal aid deserts failing asylum seekers'
Asylum seekers are facing a "lottery" depending on where their appeal is heard, an investigation by the Victoria Derbyshire programme has found.
Appeals are twice as likely to be successful at some centres compared with others, data suggests.
Shadow attorney general Shami Chakrabarti said a lack of access to legal aid - thought to be partly responsible - was "unacceptable in a humane democracy".
Watch the Victoria Derbyshire programme on weekdays between 09:00 and 11:00 on BBC Two and the BBC News Channel.