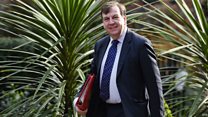 Video
'There is still a problem' with BBC pay, says Whittingdale
The BBC has promised to close the pay gap between male and female employees by 2020, but a former culture secretary says "nothing has really happened" since the pledge was made.
Conservative MP John Whittingdale told Radio 4's World at One that Director General Tony Hall must "make it clear the actions he is going to take to address this".
He spoke after the BBC's China editor, Carrie Gracie, resigned from her position, citing pay inequality with male editors.