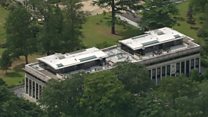 Video
How the BBC reported the raid on Sir Cliff Richard's flat in 2014
BBC News reports of the police raid on Sir Cliff Richard's apartment in August 2014 have been shown at the High Court.
The singer is suing the corporation for misuse of private information and breaking data protection rules.
The star's lawyers have described as "highly intrusive" the BBC's use of a helicopter to shoot footage of South Yorkshire Police officers searching the Berkshire property after a claim of historical sexual assault.
Sir Cliff was not charged with any offence and says he suffered "profound and long-lasting damage".
The BBC says its coverage in August 2014 was in the public interest.