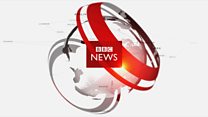 Video
Hemel Hempstead autopilot Tesla seat switch driver banned
A driver who moved into the passenger seat after putting his electric car into autopilot while at 40mph on a motorway has been banned from driving.
Bhavesh Patel, 39, of Alfreton Road, Nottingham, pleaded guilty to dangerous driving at St Albans Crown Court. A witness in another car filmed him sitting in the passenger seat of his Tesla S 60 on the M1 between junctions 8 and 9 near Hemel Hempstead.
This video has been optimised for mobile viewing on the BBC News app. The BBC News app is available from the Apple App Store for iPhone and Google Play Store for Android.