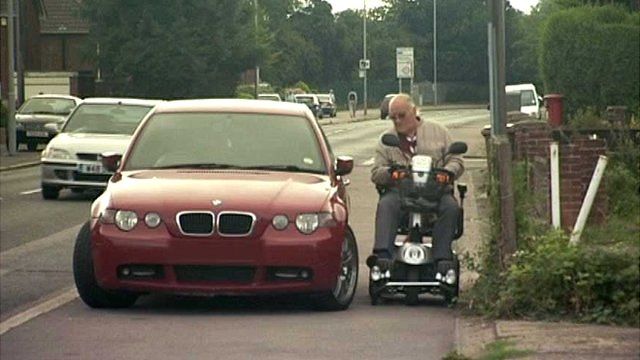 Video
Pavement parking prompts calls for action
Motorists who park on pavements are public enemy number one in the eyes of 73-year-old pensioner David Bachini, who needs a mobility scooter to get around.
David, who lives in Luton, is so angry with vehicles blocking his way on pavements that he has formed a campaign group called Dad Pop (Disabled Against Drivers Parking on Pavements).
He takes pictures of vehicles parked on pavements and posts them on his website to name and shame motorists. He also challenges drivers who have blocked the pavement.
With around 80,000 mobility scooters being sold every year and an increasing elderly population in the UK, the issue of vehicles blocking pavements is a growing problem.
The police say it is the responsibility of councils to deal with vehicles parked on pavements, and it is only illegal if there is a 'dangerous obstruction on the public highway'.
But councils told Inside Out that there is nothing they can do unless a car is breaking parking regulations.
David Bachini is calling for the government to change the law to give authorities the power to remove vehicles parked on pavements.
Inside Out is broadcast on Inside Out East on Monday, 9 February at 19:30 GMT and nationwide on the iPlayer for seven days thereafter.