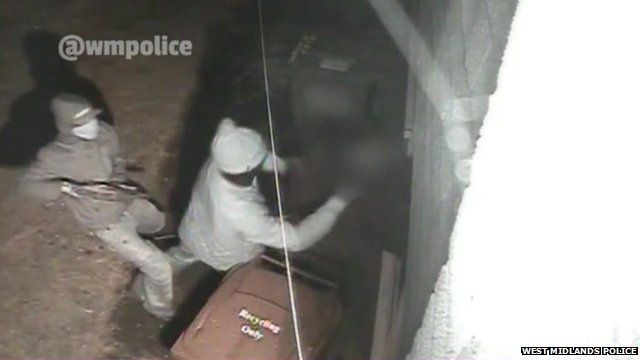 Video
Gunmen smash their way into Chelmsley Wood home
Police have released CCTV footage of three men smashing their way into a woman's home before robbing her at gunpoint.
The men, one brandishing a shotgun, used a wheelie bin as a battering ram on the patio doors at the 37-year-old's home in Chelmsley Wood.
Once inside, they threatened the woman, who was on her own at the time of the burglary on 5 February, before fleeing with her handbag.
Det Con Mark Delaney said: "Our initial enquiries suggest that perhaps this was a case of mistaken identity as the offenders seemed to be searching for something and eventually left with just the woman's bag.
"Thankfully no one was hurt and the firearm was not discharged, with the men fleeing with just the bag containing a few pounds and personal items minutes after they broke into the property."