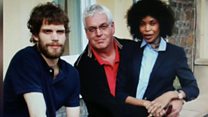 Video
Acid victim Mark van Dongen tells girlfriend 'this is because of you'
A man who chose to end his life after his former partner hurled corrosive fluid at him told her in a video message he "would be a thing on her conscience now and forever".
Berlinah Wallace, 48, was cleared of murdering Mark van Dongen in an acid attack at Bristol Crown Court on Thursday.
The Dutch engineer, who was left paralysed from the neck down and lost a leg, ear and eye, ended his life 15 months after the attack at a Belgian hospital
In a video interview, recorded a day before his death and released by his family, he tells Ms Wallace "I hope you can see the way I look now. This is because of you."