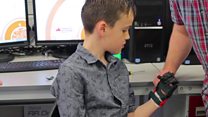 Video
3D printed hand adapted for eight-year-old boy born with no fingers
A "life-changing" 3D printed hand has been created by scientists at the University of Bedfordshire for a boy born without fingers on his left hand.
The device, adapted from one created by a scientist in Africa, reads the signals in eight-year-old William's arm - which makes it fully controllable.
For the first time left-handed Will, who lives near Towcester, is able to hold a pen and draw a picture.
His mother Jo said: "He'll be able to do complex things like tie his laces, but also simple activities like holding a drink in one hand and an ice lolly in the other.
"I can't thank these guys enough. What they're doing for William is life changing".